Overview
MFU develops and manufactures products with flexibility to respond to the customer's requests. We are also an approved manufacturer of medical devices with the official permissions; [Medical equipment manufacturer "general medical devices"] and [2nd-class Medical Device Authorization Holder]. Therefore we are able to meet your requirement in this field as well. If you have ever become worried about the quality of a new unit after you placed an order to manufacture, please let MFU help you. Your concern might be significant if you ordered a complete unit or product, but you will be free from them with MFU. We are committed to our responsible quality assurance on, not only the parts but a whole unit or product, and to offer you our high quality and reliable products.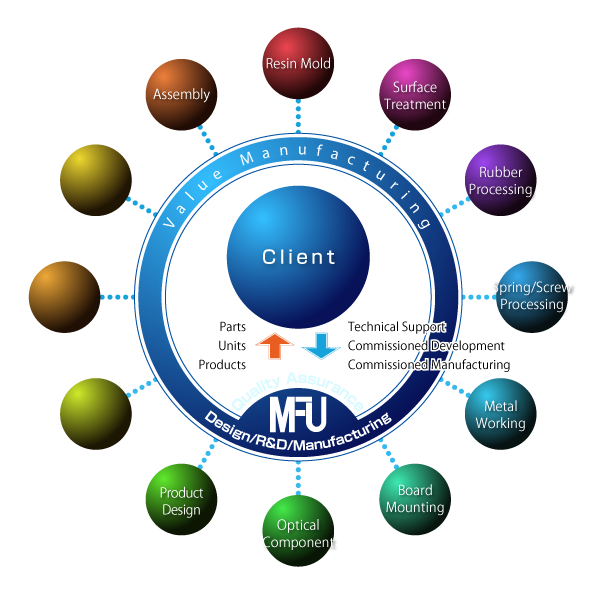 MFU spares no effort to create products in collaboration with customers in different fields satisfying their requests. With the best of our accumulated knowledge and wide network, we can suggest products that are the MFU's originals to the customers in the various fields.

Our QA department's mission is not limited to conduct stringent inspection, but to vigilantly ensure the thoroughness of quality assurance in whole production process in order to reduce "potential rejects".

We closely communicate with our contracted manufacturers to ensure they understand the goal of our QA, I mean, to reduce "the rejects" instead of simply detecting them. Our efforts have been successful in improving the quality of our products. Achieving the lower rate of "the rejects", we are confident that we are contributing to "cost-cutting"; one of the customers' important requirements. Now we set our goal high "0 reject!"